INTERNATIONAL CONFERENCE (ONLINE) ON HOLISTIC PEDAGOGY IN A CHANGING WORLD: NURTURING GLOBAL CITIZENS
Registration Fee:
Rs. 1000 (Presentation Only)
Rs. 1400 (With publication in Cognitive Discourses cdimj.naspublishers.com, peer-reviewed)
Participation Only: Rs. 500
Co-authors need to separately register.
Certificate: e-Certificate to all the eligible participants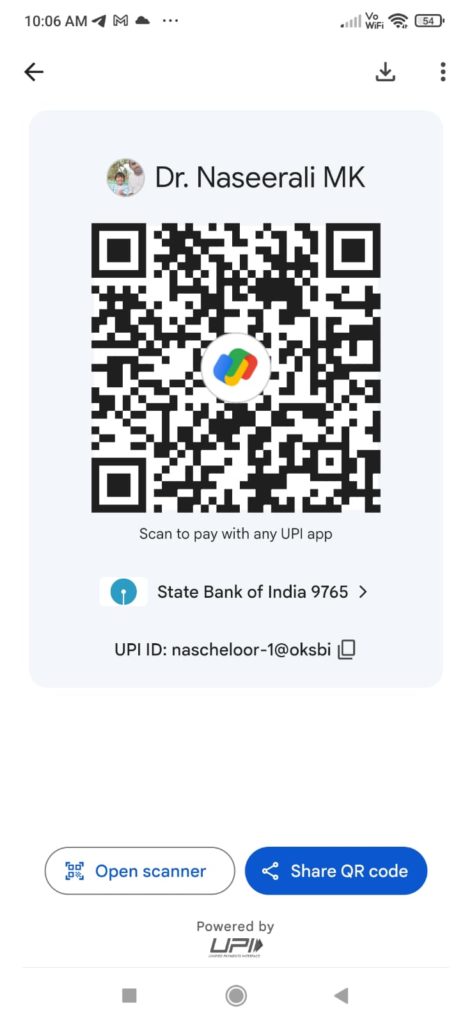 Valedictory Session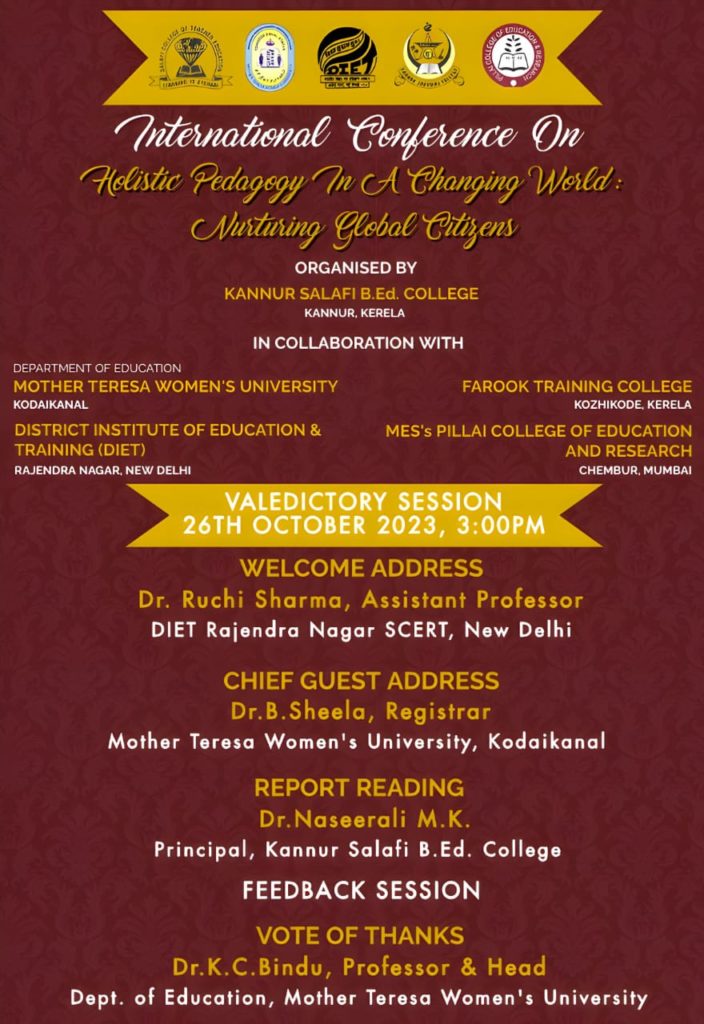 Inaugural Session
Brochure
Concept Note:
In today's ever-changing global landscape, education plays a pivotal role in shaping the future of our world. The National Education Policy (NEP) 2020 of India emphasizes holistic and multidisciplinary education to prepare students as global citizens. To delve into the principles and practices of holistic pedagogy in alignment with NEP 2020, Kannur Salafi B.Ed. College, in collaboration with esteemed institutions, is organizing an International Conference on Holistic Pedagogy.
Sub-themes:
1. Mindfulness and Social-Emotional Learning (SEL): Implementing SEL practices in education for nurturing emotional intelligence, empathy, and well-being in students.
Equity and Inclusivity in Education: Strategies for creating inclusive learning environments, addressing diversity, and ensuring equal educational opportunities for all.
21st Century Skills: Fostering critical thinking, creativity, digital literacy, and other essential skills in students to thrive in the 21st century.
Environmental and Global Citizenship Education: Promoting environmental consciousness and global citizenship to address the world's pressing challenges.
Assessment for Holistic Development: Exploring innovative assessment methods that measure holistic growth and development in students.
Teacher Professional Development: Strategies to empower educators with the knowledge and skills required for effective holistic pedagogy.
Technology Integration: Leveraging technology in education to enhance holistic development and engage learners effectively.
Parent and Community Engagement: Collaborative approaches involving parents and communities to support holistic student development.
Ethical Education: Integrating values, ethics, and character education into the curriculum to nurture responsible global citizens.
Case Studies and Best Practices: Sharing successful holistic pedagogy approaches and case studies from various educational institutions and contexts.
This conference provides a unique opportunity for educators, researchers, policymakers, and practitioners to exchange ideas, share experiences, and explore best practices in holistic pedagogy aligned with the NEP 2020. Participants are encouraged to submit original research papers and engage in discussions that promote the holistic development of students in a changing world.
Important Notes:
Registrations for presentation and publication are subject to meeting quality, originality, and plagiarism criteria (less than 10%).
The publication of papers will be in Cognitive Discourses, cdimj.naspublishers.com, a peer-reviewed platform.
We look forward to your active participation in this enlightening conference, as we collectively strive to nurture global citizens who can make a positive impact in our dynamic world. For more details and registration, please visit our official conference website.
CONFERENCE COORDINATOR
Dr.NASEERALI M.K.
Principal, Kannur Salafi B.Ed. College
Mob: 8907162762
CONFERENCE CO-COORDINATOR
Dr.ASEEL ABDUL WAHID
Assistant Professor, Farook Training College, Kozhikode
Mob: 9745334244
CONFERENCE CO-COORDINATOR
DR. A.BLESSING MARY
Assistant Professor, Mother Teresa Women University
Mob: 94437 45196
CONFERENCE CO-COORDINATOR
DR. RENI FRANCIS
Principal, Pillai College of Education and Research, Mumbai
Mob: 99872 26672
CONFERENCE CO-COORDINATOR
Dr.RANJANA RUHELA
Principal DIET Rajinder Nagar SCERT New Delhi
Mob: 94110 89931
GUIDELINES FOR PRESENTERS
Thank you for your participation as a presenter at our upcoming conference. To ensure a smooth and successful presentation experience, please carefully follow these guidelines when preparing and submitting your paper:
1. Title Page:
Your paper must begin with a Title Page that includes the following information:

Title of the Paper
Author(s) Full Name(s)
Author(s) Contact Details (email address)
Author(s) Affiliations (institution, department, city, country)
2. Abstract and Keywords:
Include an abstract of your paper. The abstract should provide a brief, clear summary of your research, including the research question, methodology, key findings, and conclusions. The abstract should not exceed [word count limit] words.
Provide a list of key terms or keywords that accurately represent the content of your paper. These keywords will help conference attendees find your presentation in the program.
3. Paper Format:
Format your paper in accordance with the guidelines specified in the American Psychological Association (APA) 7th edition. Ensure the following:

Use 12-point Times New Roman font.
Double-space the entire document.
Maintain 1-inch margins on all sides.
Include page numbers in the top right corner.
4. Citations and References:
Use APA 7th edition style for in-text citations and references.
Properly cite all sources and references used in your paper.
Ensure that your references section is complete and follows the APA guidelines.
5. Co-Authors:
Each co-author who wishes to attend the conference and present the paper must register separately. Registration is required for each presenter.
6. Originality and Similarity Index:
Your paper must be original and not exceed a similarity index of 10%. Papers with a similarity index above this threshold will not be considered for further pre-publication review.
7. Fee and Refund Policy:
Submission of your paper and registration fees are non-refundable. In the event that your paper is rejected for any reason, including exceeding the similarity index threshold, the registration fee will not be refunded.
8. Submission Deadline:
Submit your final paper by the deadline specified in the conference schedule. Late submissions may not be accepted.
9. Presentation Preparation:
Prepare a clear and concise presentation based on your paper.
Practice your presentation to ensure it can be delivered within the allotted time.
Be prepared to answer questions from the audience during the Q&A session.
10. Technical Requirements:
Familiarize yourself with the technical setup and requirements for the virtual or physical conference.
Test your audio, video, and presentation software in advance to avoid technical issues during your presentation.
11. Copyright and Legal Issues:
By submitting your paper, you affirm that you have the right to present and publish the content and that it does not infringe upon any copyright or intellectual property rights.
Any legal issues related to the content of the paper shall be the sole responsibility of the contributor. Neither the organizing institutions nor the organizing team will be responsible for any legal disputes or claims arising from the paper's content.