Organized by Kannur Salafi B.Ed. College
Date: 10th July 2023
Kannur Salafi B.Ed. College proudly hosted a dynamic and enlightening Faculty Development Programme on 'LIFE SKILLS' on the 10th of July 2023. This significant event was tailored to enhance the skills and competencies of both teaching and non-teaching faculty members of the college, fostering personal growth and professional excellence.
The engaging programme unfolded within the welcoming confines of the Seminar Hall, resonating with enthusiastic participation from esteemed teaching and non-teaching staff members. Guided by the expertise of Mr. Shinu, a distinguished professional renowned for his mastery of life skills education and psychology, the programme delved into two pivotal areas of focus:
Key Topics Explored:
Life Skills in Academic and Administrative Works: The session adeptly demonstrated the integration of life skills into the realm of academics and administrative tasks. Participants were exposed to insightful strategies that seamlessly incorporated life skills into daily responsibilities, amplifying productivity, communication, problem-solving, and decision-making proficiency.
Psychological Aspects: Understanding the psychological underpinnings of personal and professional interactions was a central theme. Attendees explored techniques for stress management, the cultivation of effective teamwork, and the nurturing of emotional intelligence – all vital components for a harmonious and efficient work environment.
The programme's interactive nature facilitated lively discussions, enabling participants to share experiences, seek clarifications, and engage deeply with the diverse aspects of life skills and psychology. Mr. Shinu's guidance was pivotal in navigating through the intricate topics, providing practical insights and real-world applications that resonated profoundly with the participants.
The Faculty Development Programme on 'LIFE SKILLS' received resounding acclaim from all attendees. Their unanimous feedback underscored the transformative nature of the session, reshaping their approach to both academic and administrative responsibilities. The event unequivocally demonstrated the college's unwavering commitment to continual professional development and the nurturing of a faculty community equipped with holistic skills.
The inauguration of the programme was graced by the esteemed presence of Dr. Naseerali M.K., the Principal of Kannur Salafi B.Ed. College. The participation of all the teaching staff members, including Mrs. Riji Vijayan, Mrs. Anitha, Mrs. Vijisha CP, Mrs. Sudha M., Mrs. Jhansi Tharal, Mrs. Anitha PC., Mrs. Dhanya PV, Dr. MK. Madhusoodanan, Mr. Vishwanathan TV, Mrs. Shimina N., and Librarian Mrs. Leena PM, along with non-teaching staff members Hyma Vathi T.C. and Mrs. Liji C.V., added significant value to the event.
The management of Kannur Salafi B.Ed. College extends heartfelt gratitude to Mr. Shinu for his exceptional insights and to all participants for their enthusiastic involvement.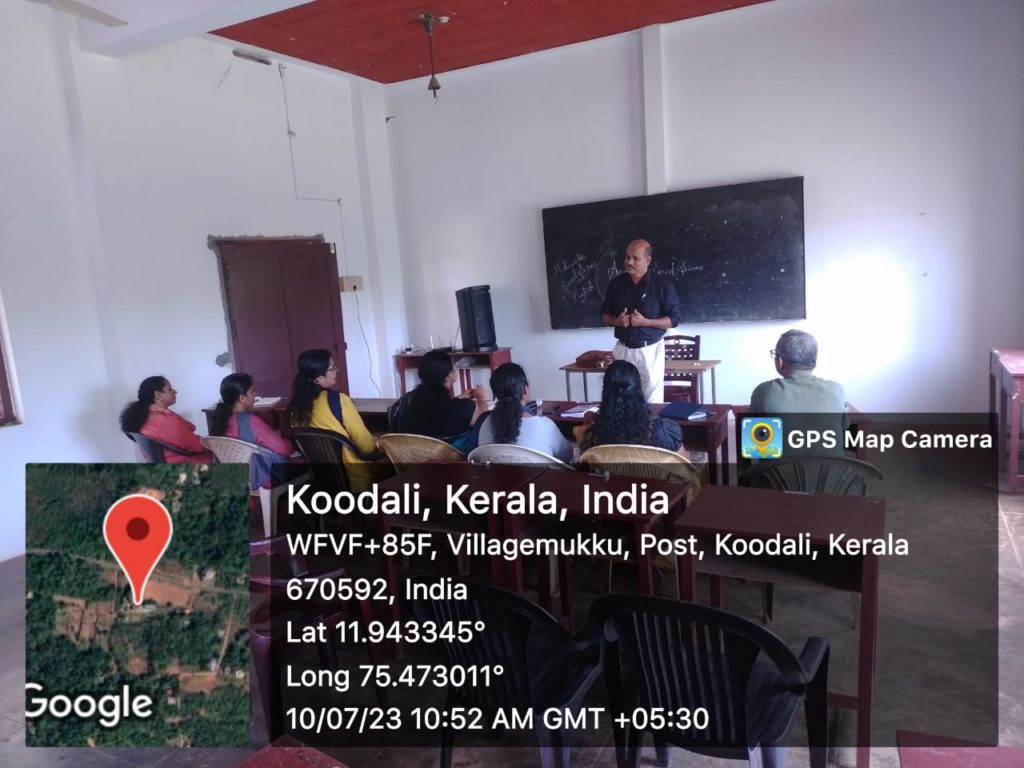 Report Prepared By: Mrs.Anitha P.C., Assistant Professor