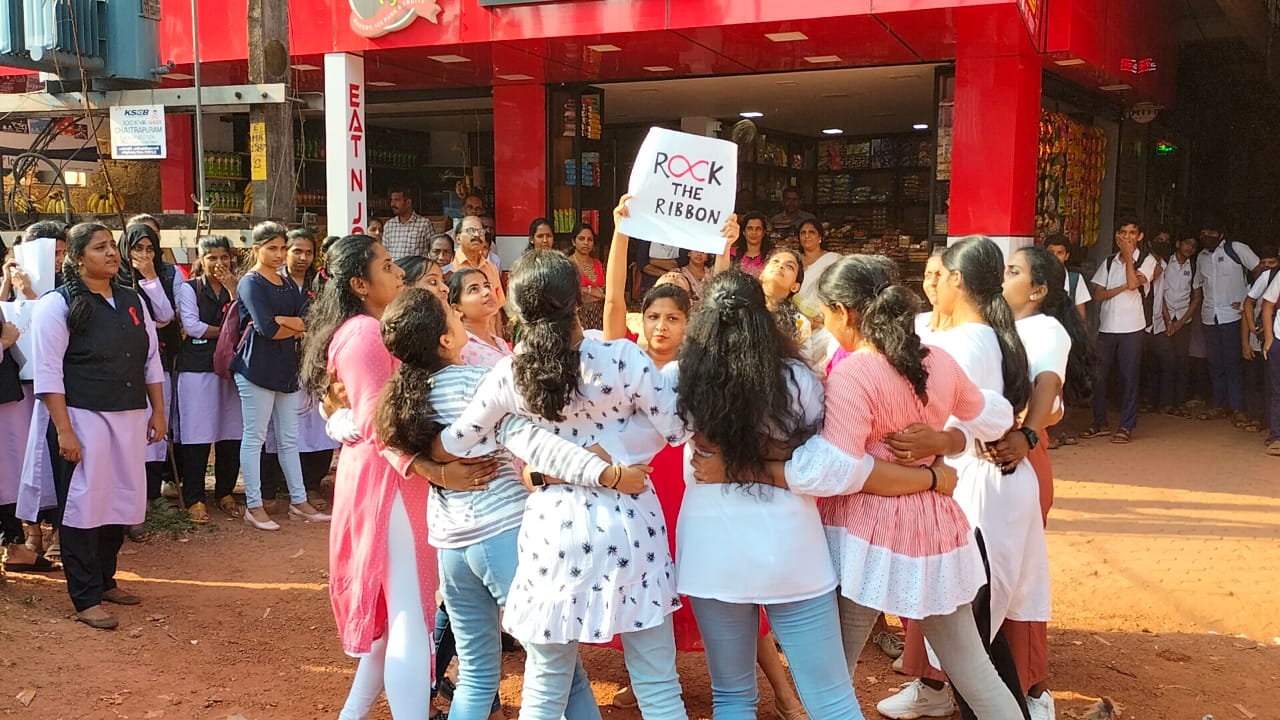 On December 1, 2022, the students of the Bachelor of Education (B.Ed.) program at Kannur Salafi B.Ed. College organized a dynamic and impactful flash mob at Kudukkimutta Town. The event was conducted in connection with World AIDS Day to raise awareness about HIV/AIDS and promote the importance of prevention, understanding, and support for those affected by the disease.
Event Details:
Date: December 1, 2022 Location: Kudukkimutta Town, [City], [State] Organizers: Students of Kannur Salafi B.Ed. College (Bachelor of Education Program)
Event Description:
The flash mob commenced at 9.30 A.M. at a prominent location in Kudukkimutta Town. Our enthusiastic B.Ed. students, dressed in red ribbons and awareness-themed attire, delivered a powerful and synchronized dance routine. The carefully selected music added a touch of emotion and energy to the performance, drawing the attention of passersby and onlookers.
Message:
The central message of the flash mob was to create awareness about HIV/AIDS and encourage the community to be proactive in understanding and supporting those living with the condition. The students used their creative expressions to emphasize the importance of education and awareness in combating the stigma associated with HIV/AIDS.
Impact:
The flash mob made a significant impact on the audience, generating curiosity and intrigue among the local community. Spectators were deeply moved by the students' performance and appreciated the effort taken to raise awareness about such an important public health issue.
The event's impact was amplified through social media, as attendees recorded the flash mob on their smartphones and shared it widely on various platforms. This digital dissemination further extended the reach of the message, inspiring others to join the fight against HIV/AIDS stigma and discrimination.
Conclusion:
The flash mob held at Kudukkimutta Town on December 1, 2022, by the students of Kannur Salafi B.Ed. College, in connection with World AIDS Day, was a resounding success. Through their creative talents, our B.Ed. students effectively conveyed the importance of AIDS awareness and highlighted the significance of education in breaking down the barriers of stigma.
We extend our heartfelt appreciation to all the students who participated in the flash mob and worked tirelessly to make this event a grand success. Additionally, we express our gratitude to the local community and authorities for their support during the event.
As an institution committed to community engagement and social responsibility, we take pride in our students' dedication to creating awareness on critical issues affecting society.